The Kensington Grove Homeowners Association's desire is to maintain and improve the value and appeal of our community. To that end, the Association has the responsibility to enforce the Declaration of Covenants and Restrictions governing our subdivision via an elected Board of Directors.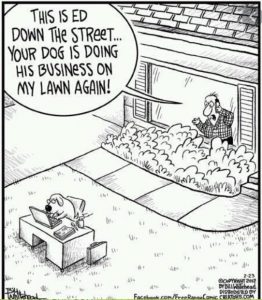 Every homeowner should make themselves familiar with these rules, particularly before embarking on changes involving home exterior construction or involving significant modification to the home's landscape.
If an owner has any questions about future enforcement procedures or prohibited activities, please do not hesitate to contact us. We can be reached either by email or regular mail.
Email: board@kensingtongrovehoa.org
Send mail to:
Kensington Grove HOA
P.O. Box 251
Bargersville, IN 46106-0251
Below are some common topics and problem areas that seem to come up most frequently:
Appearance of Property
All residents are required to maintain the appearance of their property, from performing regular mowing and weeding to avoiding artificial plants, sculptures, fountains, or flags without approval of the HOA. Garbage cans should be concealed from view. Refer to Exhibit D of the Covenants and Restrictions, or view KG Homeowner Guidelines on the Resources page.
Mailbox Maintenance
It is the homeowner's responsibility to maintain their mailbox. This includes straightening leaning mailboxes, tightening screws and realigning parts, replacing damaged parts, and painting. Refer to the latest price list for parts as well as the Covenants and Restrictions for additional details.
Antennas, Aerials
No exterior antennas, aerials, or other apparatus for receiving or sending transmission are allowed without the prior consent of the HOA.
Street Lights Out, Sidewalk Repair, Street Pothole Repair
Keeping our community looking nice is in everyone's interest. It helps maintain property values and adds to our safety and security. Use the guideline below regarding any of the following problems:
If a street light is out, please call Johnson County REMC at 317-736-6174. Provide them with the location of the light (approximate street address) and the number located on the pole.
If sidewalk repair is needed (not including a driveway), contact your board at board@kensingtongrovehoa.org. Indicate the approximate address and attach a photo of the sidewalk, if possible.
Street pothole repairs should be directed to the Johnson County Highway Department at 317-346-4630 or email highway@co.johnson.in.us. Provide the approximate address for the pothole or broken concrete around drains. Attach a photo if you can. Reports by multiple residents can be very effective in getting the potholes repaired sooner.

Overnight Street Parking
The Covenants & Restrictions state that vehicles shall be parked only in garages and driveways. Street parking is permitted when a homeowner has a social function. Overnight parking is not permitted on any street.
If a vehicle is frequently parked overnight on the street, notify your HOA board (board@kensingtongrovehoa.org) and describe the situation. The vehicle owner will be contacted and reminded of the restriction (Covenants & Restrictions, Exhibit D, Section 27).
If a vehicle is parked overnight in the same spot for several days without movement, the sheriff's department should be contacted at 317-346-6336. They will tag the vehicle and give the owner 72 hours to move it or risk having their vehicle towed.
Home Remodeling, Landscape Changes, Swimming Pools, Fences
Remodeling that impacts the exterior of your house, including landscape changes, require the approval of the HOA. Residents are required to submit a copy of the KG HOA Property Improvement Request Application form and a security deposit check, if required, in the amount indicated within the document. Visit the Homeowner Property Improvement Guideline for help in submitting your request.
Annual HOA Dues
All homeowners are responsible for paying the annual assessment, and from time to time, any special assessment approved by the Board of Directors. Failure to pay such assessments may result in a lien against the property in accordance with the Covenants & Restrictions, Article XI, Section 5.
The current Kensington Grove Homeowners annual assessment is $625.00 per lot. The amount is due by January 31 each year and will be assessed a late fee of $35.00 for payment after that date.
An option for semi-annual payments plus a 10% premium is available. The first payment is due by January 31 in the amount of $343.75 per lot, with the second payment of $343.75 per lot due by June 30 in the same year.
Please make checks payable to: Kensington Grove Homeowners Association
Please mail to: P.O. Box 251, Bargersville, IN 46106-0251